Appreciating Courage
Whether it's time spent with his wife Rose Mary in their condo overlooking the ocean, regular Bible study classes, or just the news that his alma mater, Duke University (Class of 1950), has won a national basketball championship-retired attorney Warren Cole from Florida, knows he's been blessed.

As an attorney in booming, post-war Florida, Mr. Cole has accumulated many blessings. In return, he has looked to spread those blessings. One commitment is the American Bible Society (ABS), the recent recipient of a generous charitable gift annuity from Mr. Cole.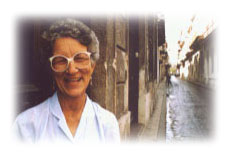 Antonia Carrasco found Jesus through the Scriptures and was freed from her false hopes in Santer'a, Cuba
He admires the ABS for its mission to spread the Bible. "It's a fundamental necessity for the world," he says. "Various denominations can get at cross-purposes on theological points. But ABS' dedication to the Bible is non-denominational."

He and Rose Mary have five children and four grandchildren. Special prayers have been focused on his grandson Matthew. Now 15, at eight months of age Matthew was in a severe fire. Doctors at the time gave him only a 40 percent chance of survival. While he lived through the experience, Matthew has not had an easy time of it.

"He's had more problems than anyone since Job," says Mr. Cole.

In his Bible study, Mr. Cole has gravitated towards characters that exhibit courage. His favorite is Stephen, the first deacon in the early church whose martyrdom is described in the Book of Acts.

"He told them off," said Mr. Cole. "And of course he paid the price. I just admired his courage."