Heart Inspires Generosity
Gertrude Porter is deeply grateful for the good things God has given her.

She had a mother who worked hard to provide for her after her father's death. "She had a very hard life," Ms. Porter says, remembering sacrifices her mother made.

Inspired by her mother, she found success, first as a secretary, then as a bank teller, and, after additional schooling, as a branch manager for Chemical Bank. Her final full-time job took her to Doubleday in New York City.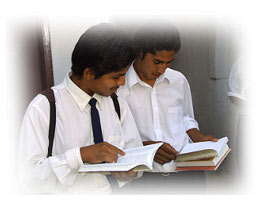 Bolivian high school students Henry Gutierrez (left) and Israel Acua share insights gleaned from the Scriptures during a meeting at the Bolivian Bible Society.
She's also grateful she was able to retire at age 52. Although Ms. Porter, now 70, moved to Florida to retire, she's not retiring. This energetic lady has developed computer skills and gotten her church connected to the American Bible Society ministry.

She is grateful for all these good things, but says she is most grateful for the faith her mother shared. "I was raised in a Christian home," says Ms. Porter, "The Lord's been very good to me."

As a sign of her gratitude, she's established three annuities from American Bible Society. For her most recent annuity she used stocks she owned. She's completed her estate planning, and included American Bible Society in her Will.

She's pleased to know that her gifts support the distribution of God's Word here in the United States and around the world.

You can obtain more information about planned giving for American Bible Society that will share God's Word with the world into the future by calling the Gift Planning Department at 1-800-549-3328, or by visiting us at www.AmericanBible.org.