Heeding the Call
At each juncture, from courting his first wife, to working in the business world, to serving as pastor in three denominations, Mr. Booker has experienced God's support and guidance.

The Nebraska native, who is 98, recalls, "going to church and doing what was right," but not committing to faith until, at age 19, he met his first wife, Thelma Carpenter. He chose to follow Christ due largely to her influence.

After several years in business proved profitable, Mr. Booker began sensing God's call to full-time ministry. Initially, says his son, Elon Booker, "my father resisted that call."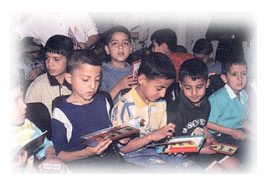 Children at the Syrian Catholic Bishopric reading Greatest Stories which they received after watching a performance by the Just for Kids drama troupe which has made a second tour of Iraq in collaboration with the Bible Society in Lebanon. Baghdad, Iraq. Photo: BSL
Finally, Ivan Booker prayed: "Lord, if this is really what you want, I need you to confirm it to me in a tangible way." That weekend, he received a letter inviting him to hold a revival meeting. He left his job, and for the next year and a half, as one revival meeting would wrap up, he'd receive an invitation to preach another somewhere else.

Eventually, Mr. Booker retired from full-time preaching to sell real estate with a Christian company, still often preaching on Sundays.

Now retired full-time, his love for the Scriptures fuels his contributions to American Bible Society Gift Annuity program. "The Scripture shows the way to spiritual and eternal life," he says. He chooses to partner with the Bible Society to both promote God's Word and provide for his grandchildren and others.