Sunday September 19, 2021
Finances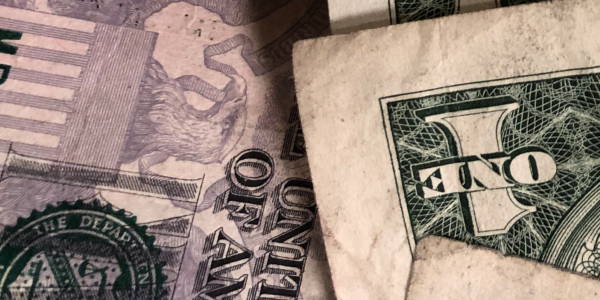 Macy's Posts Earnings
Macy's, Inc. (M) released its second quarter earnings report on Wednesday, September 2. The New York-based retailer reported a loss, but shares in the company rose after the earning's release.

Macy's announced revenue of $3.56 billion for the second quarter. This was down almost 36% from $5.55 billion in the same quarter last year, but exceeded analysts' expectations of $3.48 billion.

"Macy's, Inc. performance for the quarter was stronger than anticipated across all three brands: Macy's, Bloomingdale's and Bluemercury, driven largely by the sales recovery of our stores," said Macy's CEO Jeff Gennette. "Restarting our stores' business was our top priority, and we successfully accomplished that while also ensuring that our digital business remained strong. Going into this crisis, we had a well-developed digital business and we're seeing that thrive as we attract new and welcome existing customers back to our brands."

The company reported a net loss for the second quarter of $431 million. On an earnings per share basis, the company reported a loss of $1.39 per share. Last year at this time the company reported profit of $86 million or $0.28 per share.

While digital sales grew 53%, in-store sales were down 61%. All Macy's stores were closed for a portion of the quarter. Comparable store sales were down 34.7%. This was an improvement over the 45.4% decline from the first quarter. The company has suspended guidance for 2020 due to uncertainties surrounding the coronavirus pandemic.

Macy's, Inc. (M) shares ended at $7.65, up 10.2% for the week.


Campbell's Serves Up Earnings

Campbell Soup Company (CPB) released its fourth quarter and full year earnings report on Thursday, September 3. The New Jersey-based company's stock fell 5% following the release, despite outpacing analysts' revenue estimates.

Campbell's posted quarterly revenue of $2.11 billion, up 18% from $1.78 billion reported at the same time last year, and greater than the $2.08 billion analysts expected. Revenue for the year came in at $8.69 billion, up from $8.11 billion reported last year.

"Our strong fourth-quarter and full-year fiscal 2020 performance was enabled by the extraordinary work of our teams who remained agile and resilient in a challenging operating environment," said Mark Clouse, Campbell's President and CEO. "We continued to invest in our businesses during the quarter as we experienced unprecedented demand for our products and welcomed millions of new households to the Campbell portfolio. This quarter concluded a year that furthered our strategic plan and solidified a significantly strengthened foundation that we will build upon going forward as we begin fiscal 2021."

For the fourth quarter, Campbell's reported earnings of $167 million, up from $83 million reported at this time last year. Net income for the full year came in at $1.11 billion, up 13% from $979 billion last year.

Campbell's, established in 1869 and known for its namesake brand of soups, houses a variety of brands including Pepperidge Farm, Snyder's, Emerald nuts, Prego pasta sauces and Plum baby foods. Net sales for the company's Meals & Beverages segment increased 28% in the quarter. The Snacks segment saw an increase in net sales of 11%. Campbell's projects net sales to increase 5% to 7% for the first quarter of 2021, but has limited further guidance due to the pandemic.

Campbell Soup Company (CPB) shares closed at $47.58, down 9.1% for the week.


DocuSign Exceeds Earnings' Expectations

DocuSign, Inc. (DOCU) announced its second quarter earnings on Thursday, September 4. The San Francisco-based electronic signature service provider's shares fell 9% after the report's release, but overall shares have experienced a gain of more than 200% in 2020.

DocuSign reported quarterly revenue of $342.2 million, up from $235.6 million at this time last year. The company's revenue has increased 45% year-over-year and beat analysts' revenue expectations of $318.6 million.

"In an accelerating digital world where business can be conducted from anywhere, the need to agree electronically and remotely has never been stronger, as shown in our 61% year-over-year billings growth," said DocuSign CEO Dan Springer. "We are just scratching the surface of our Agreement Cloud opportunity and believe we are increasingly becoming an essential cloud-software platform for organizations of all sizes."

DocuSign reported a net loss of $64.6 million or $0.35 per share for the quarter. This is better than the net loss of $68.5 million or $0.35 per share reported at the same time last year.

DocuSign has seen an increase in demand for its services as the coronavirus pandemic has led to a sudden rise in remote work and demand for an alternative to paper contracts. While many companies that have thrived during the pandemic may see a decrease in demand as the country recovers, DocuSign's CEO stated, "With our situation, I really don't see a regression to people saying, 'I want paper, I want manual processes.'" DocuSign is in the process of building its remote notary service. Currently, 23 states allow remote notary services, but DocuSign anticipates 45 states could allow such a service by next year.

DocuSign, Inc. (DOCU) shares closed at $216.26, down 1.1% for the week.

The Dow started the week at 28,644 and closed at 28,133 on 9/4. The S&P 500 started the week at 3,310 and closed at 3,427. The NASDAQ started the week at 11,719 and closed at 11,313.
Treasury Yields Increase
Yields on U.S. Treasurys rose Friday following the release of a strong jobs report. The unemployment rate dropped below double digits for the first time since March.

On Friday, the Bureau of Labor Statistics released its latest jobs report which showed 1.37 million new jobs added in August. The sectors with the biggest growth rates were industries such as hospitality, health care and retail; these were also some of the most affected industries during the coronavirus shutdown.

"We are still moving in the right direction and the pace of the jobs recovery seems to have picked up, but it still looks like it will take a while – and likely a vaccine – before we get back close to where we were at the beginning of this year," said Head of Global Markets at Citizens Bank Tony Bedikian.

The 10-year Treasury note opened the week of August 31 at 0.755%, hit a low of 0.608% on Thursday, September 3, and was trading at 0.678% on Friday, September 4. The 30-year Treasury bond yield opened the week at 1.502%, hit a low of 1.321% on Thursday, and was trading at 1.364% on Friday.

The unemployment rate dropped to 8.4% in August from 10.2% in July. In February, unemployment was at the lowest level in 50 years at 3.5%, but spiked to nearly 15% in April due to the pandemic.

"There are certain industries that are essentially stuck until the virus recedes further, such as air travel, sporting event and concert admissions," said Stephen Stanley, Chief Economist at Amherst Pierpont. "But for most of the economy, the return to normal is occurring inch by inch and day by day, with plenty more to come."

The 10-year Treasury note yield closed at 0.72% on 9/4, while the 30-year Treasury bond yield was 1.47%.
Mortgage Rates Hold Steady
Freddie Mac released its latest Primary Mortgage Market Survey on Thursday, September 3. The report showed rates relatively unchanged.

The 30-year fixed rate mortgage averaged 2.93%, up from 2.91% last week. At this time last year, the 30-year fixed rate mortgage averaged 3.49%.

This week, the 15-year fixed rate mortgage averaged 2.42%, down from 2.46% last week. Last year at this time, the 15-year fixed rate mortgage averaged 3.00%.

"Mortgage rates have remained effectively flat or at near record lows for the last month," said Freddie Mac's Chief Economist Sam Khater. "However, there are some interesting compositional shifts as the 10-year Treasury rate has increased modestly over the past month while mortgage spreads have declined. Spreads may decline even further but the rise in Treasury rates will make it difficult for mortgage rates to fall much more over the next few weeks."

Based on published national averages, the national average savings rate was 0.05% on 9/4. The one-year CD finished at 0.20%.
Published September 4, 2020
Previous Articles